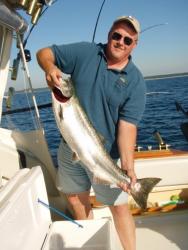 Rick is an avid sportsman. Turkey and waterfowl hunting are probably his favorite but he loves to share the sport with newcomers and is often found in the woods and marshes calling and guiding for others rather than carrying a firearm himself. Rick's dad brought him up with an appreciation and respect for the outdoors and Rick is now passing on that tradition to his son with the support of his wife of 35 years.
For over 25 years Rick has been buying and selling his own recreation properties in Michigan. He has spent countless days on tractors to help improve wildlife habitat and enjoys sharing that experience with others. Besides spending years in the woods, fields, rivers and lakes of Michigan, Rick has also enjoyed some memorable trips in many other parts of the United States and Canada. He has a saying, "It's not just about hunting, it's about building memories".
That saying has been true for Rick and his family so when he can find a client exactly what they are looking for to start fulfilling their dreams, it brings him great satisfaction. That is why he loves what he does! No matter if you're looking at recreational property to build a few memories or looking to build a strong investment, Rick will roll up his sleeves and work hard to find exactly what you're looking for. And if you're looking to sell, you won't find a better place to list recreation property than with someone who has the contacts and specific marketing tools to reach your buyers.